What is Share A Sale About? (Guide for Beginner's )
Are you a new marketer and looking for an affiliate network program? Are you an experienced blogger and want to know more about Share A Sale?
You have come to the right place, in this article we will introduce you step by step to the well-known Global company Share A Sale.
In this tutorial, we will introduce you step by step how to work with ShareASale in order to become successful on one of the most popular platforms globally. In the next 10 minutes, you will be clear on how ShareASale works, and you will be able to start earning from this popular Affiliate Marketplace.
What is Share A Sale?
Let's take a start from the beginning, Share a Sale was founded by Brian Littleton in the 2000s.ShareAsale Marketplace has over 4000+ merchants who promote their articles. This is one of the largest marketplace digital networks in the US in terms of products using affiliate programs. Share A Sale numerous today around 211,000+  affiliates worldwide. ShareASale currently is operated by Awin emerged in 2017.
If you search on Search Engines you will see that are countless results about affiliate networks. Let's look at why mos of people choose ShareASale as their affiliate Network.
---
How many Affiliate Categories  Share A Sales offer?
Share a sale offer many categories in which you can apply to promote as an Affiliate Marketer on your blog, on your website, on youtube, etc, company offers a very interesting revenue percentage. Some of the mentioned categories are as below –
CATEGORIES
Accessories, Art/Music/Photography, Auction Services, AutomotiveBooks/MediaBusiness, Career/Jobs/Employment, Clothing, Commerce/Classifieds, Computers/Electronics, Domain Names, Education, Family, Financial, Food/Drink, Freebies, Free Stuff, Rewards Programs, Games/Toys, Gaming and Lotto, General Web Services, Gifts, Online Dating Services, Webmaster Tools, and more can be found at their
Affiliate Directory here
.
Personally, I use Share A Sale as an Affiliate and I am very satisfied and I recommend strongly to everyone Publisher or Merchant.
How Much does Sale A Share Cost for Merchants?
Before speaking about the benefits of using Share a Sale, we are telling you how much it actually costs.
For Merchants, there is a $550 one-time network access fee, and a $100 min deposit is required as well. There is also a 20% additional network fee on top of 100$. Φor each $10 that ends up being paid to affiliates, the sum of $2  goes to Share a Sale.
---
Benefits of using Share A Sale
Technology to drive your affiliate channel to success
With ShareASale, you can Keep real-time insights into performance data, affiliate partner activity, and personalized program diagnostics. They have one of the best tracking tools technology.
Custom tools
With ShareASale, you have a host of tools at your disposal as recruitment tools, influencer activation, custom short links, landing pages, etc.
They provide one of the easiest dashboards to use
Most affiliate networks are difficult to navigate however share a sale is one of the easier. From a merchant's point of view, it is very simple to see how their products are being promoted across various channels such as PPC and even email or content blogs.
---
Easy Payout Payment 
Merchants benefit from hassle-free payments and affiliates and publishers are paid on the 20th of every month. Their min payout is 50$. They offer different payment methods including direct deposit or by check. They offer pretty generous commissions:
$150 for every qualifying merchant that signs up through your link
$30 for every qualifying affiliate that signs up through your link
---
What are some alternatives to ShareASale?
There're several affiliate marketing programs worldwide. However, the most notable (in our opinion) are Amazon Associates, eBay Partners, Clickbank, and Rakuten.
You can read for some in one of my articles by clicking
Here
.
Have Share A Sale approval process for joining?
Yes. Normally, if you like to join a particular affiliate program on ShareASale, the merchant that you carried out to join need to approve your request, but they are very fast in feedbacks.
HTTP://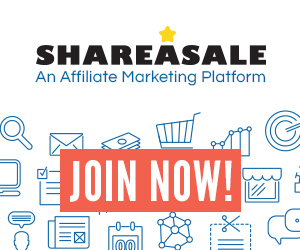 I have written only some proven tips here, which will surely help a lot in understanding how SaleAShare.
Just follow the simple information on my reviews and stay away from
paid bullshit guides & courses
. If you have any questions about SaleAShare don't hesitate to leave me a reply here.
Read also some of my interesting articles as below –
Affiliate Disclosure: This post may contain some affiliate links, which means we may receive a commission if you join some companies that we recommend at no additional cost for you, for more detail read our Disclaimer.